What do you get when you cross an epic toy with a tragic backstory, a daredevil attitude, incredible poses, a healthy dose of Canadian spirit, and the melodic voice of Keanu Reeves? The answer is simple: a brand-new character from Toy Story 4, in theaters June 21. This character is, of course, Duke Caboom, Canada's Greatest Stuntman!
Who is Duke Caboom, you might ask? What makes him tick? Why is he such a crucial element of Toy Story 4? So glad you asked, let's find out…
Duke Caboom is a toy straight out of the 1970s, based on Canada's greatest stuntman (also named Duke Caboom). With his awesome Caboom stunt-cycle revved up and ready to go, Duke always arrives with confidence, swagger, and of course, his signature stunt poses. Let's take a look at a few of them:

Woody and Bo Peep encounter Duke inside an antique store, hoping to recruit him for an epic stunt to save Forky from the clutches of Gabby Gabby. However, Woody soon discovers that Duke isn't quite the stuntman he seems to be, because he has never been able to do stunts quite as awesome as the ones advertised in his toy commercial.
In a clip we saw while visiting Pixar Animation Studios in Emeryville, California, Duke recounts the failures of his tragic past to Woody and Bo through a truly hysterical flashback scene. We won't spoil it here, because it's too good to not see and hear Keanu Reeves' incredible performance for the first time in Toy Story 4, landing in theaters June 21.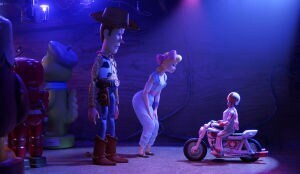 Speaking of Keanu Reeves, who better to voice Canada's Greatest Stuntman than another Canadian great? Producer Jonas Rivera gave us all the details about the magical experience working with Keanu Reeves:
The first time [Director] Josh Cooley and I talked with Keanu about the role, Keanu became Duke Caboom. Keanu was asking great questions that dug deep to find the soul of the character. At one point, he stood up on the table in the middle of Pixar's atrium and struck poses while proclaiming victory. It was so funny. It's all in the movie and it's all Keanu.
An epic voice actor origin story for an epic character? What could be more fitting?
So there you have it, our ode to Duke Caboom. Want to see more from Duke? Then you absolutely can't miss Disney•Pixar's Toy Story 4, in theaters June 21. Tickets are on sale now!