Frozen fans, you're in for yet another treat. The new Walt Disney Animation Studios short "Myth: A Frozen Tale" gives us an electrifying look into the spirits you've come to know and love in Frozen 2. The short captivates the energy, volatility, and importance of the elemental spirits existing in the world, as well as their need for balance — much like all other important things in life.

Set in the forest just beyond Arendelle, the film's artwork is inspired by the world of Frozen 2 and is accompanied by the score music for which Disney is known and adored. "I wanted to draw from the history of Disney Animation and this rich heritage, where animation is tied to the music its animated to. It almost moves exactly with that music," shared Jeff Gipson, the short's director. Gipson, who also made Disney Animation's award-winning short, "Cycles," was inspired by a bedtime story he'd heard as a child from his dad, and wanted to emulate the same feeling he got whenever he heard it. "When it came to 'Myth: A Frozen Tale,' I started thinking… what type of bedtime story would you be told if you grew up in or around Arendelle?" he explained. This is how "Myth: A Frozen Tale" was born, and for him, the elemental spirits were such a big part of the Frozen 2 story, it made sense for the short to focus on them.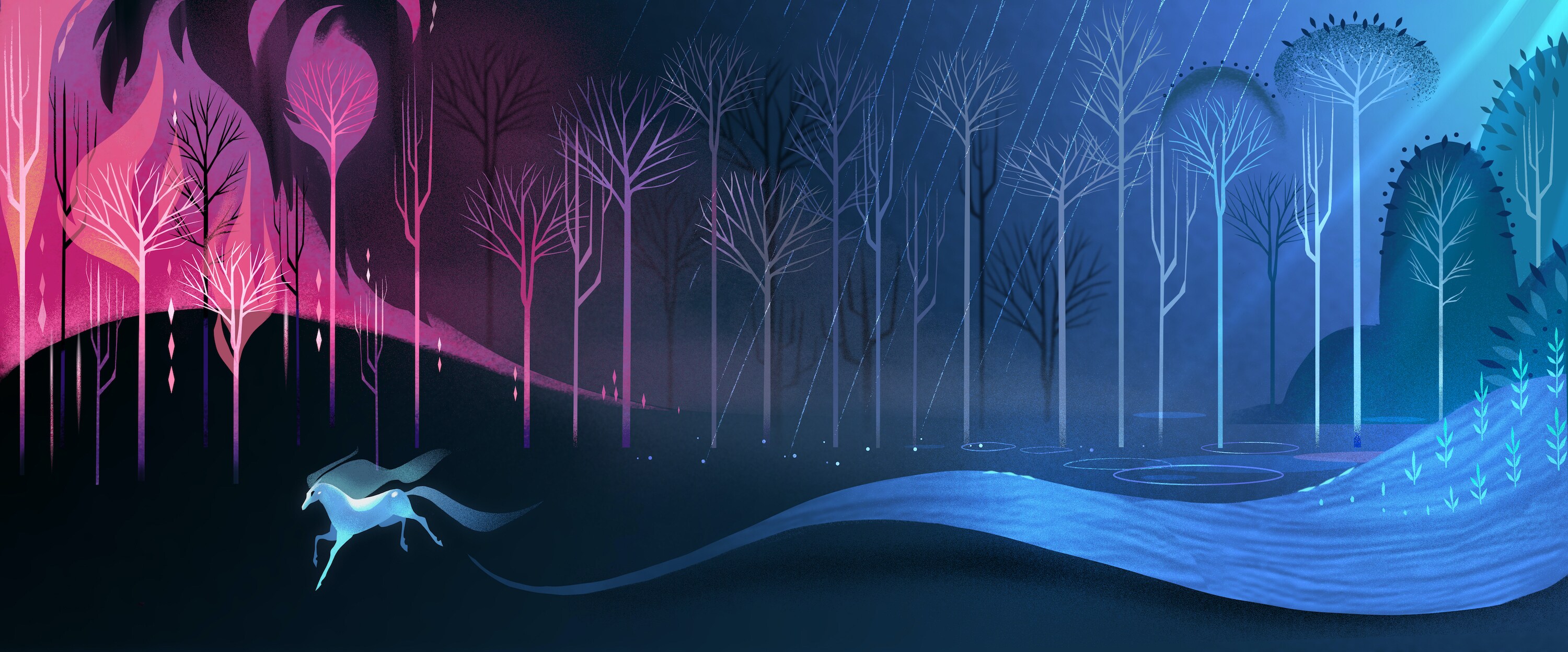 To our delight, this bedtime story focuses on Frozen 2's elemental spirits: Nokk, the water spirit; Bruni, the playful yet volatile fire spirit; the gigantic Earth Giants representing the earth spirit; the comforting yet powerful wind spirit Gale — and one more that was added, just as in Frozen 2 — the Human Spirit. But this time, the spirits had to be translated into a new medium. "I was really inspired by the graphic look of shadow puppets and pop-up books, and [imagined] a world that if you were able to step into that kind of pop-up book, what would that [story] look like as a stylized version of the Frozen 2 world?" Gipson enthused. "I started thinking about production design and mentioned the pop-up books in this kind of flattened, stylized aesthetic, where there's shadow puppets."

The team knew from the very beginning that they wanted to work with renowned visual development artist Brittney Lee, who served as the short film's production designer. Lee is known for her amazing work on Disney Animation favorites Wreck-It Ralph, Frozen, Zootopia, and Frozen 2, as well as the paper cut-out, stylized art they desired. Luckily for them, once they pitched the idea, she was all in. "I was just over the moon because I was such a fan of Brittney's work, and having her on board to be our production designer on this film was such a pleasure and an honor," said Gipson. Once the team was all together, the real work began. The first challenge: How do they further stylize a world that is already part of the stylized world of Frozen? They decided to look at some influences that Frozen also used, like the artwork of Disney Legend Eyvind Earle and his work on Sleeping Beauty, with its elegant shape language — very graphic and stylized. "The forests were [also] featured predominantly in Sleeping Beauty, so we really looked to his artwork to sort of begin the framework of stylizing the space and pulling the shape language we could build from, to build our own forest in "Myth," Lee shared.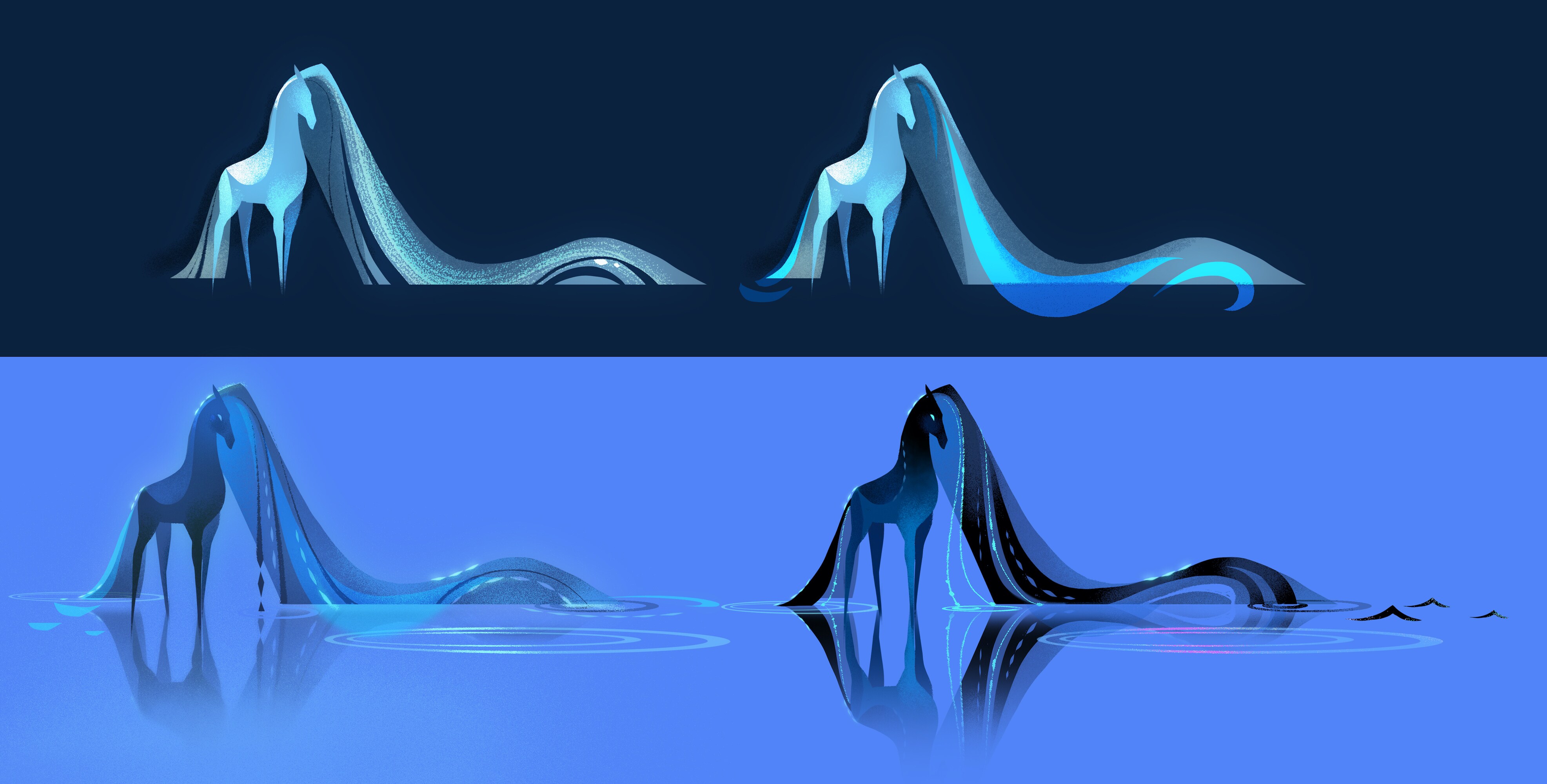 They also needed to build their own language for the elemental spirits. "They already had their own color palette in Frozen 2, but we decided that we wanted to push that a little further and make each spirit very definitive in their own color and shape language," Lee detailed. "We also were adding the fifth spirit, and we wanted that to be representative of all the elements combined, so we gave it a prismatic effect and thought that might be a nice way to show how when everything works together, there is this beautiful combination." Gipson chimed in, "That's what the film is about — this harmony of the elements coming together, but also the duality of each element."

Hand-drawn animation was an important element for Gipson to include in the film's design, which included 2D elements created by visual effects animator Dan Lund, as well other effects artists at the studio. Lund has worked on films like Beauty and the Beast, Aladdin, The Lion King The Princess and the Frog, Frozen, Moana and Frozen 2. "This was another piece that was so fun to work with," Lee mentioned, referring to a hand-drawn diamond fire created by Lund for the character Bruni. "Building in that hand-drawn element really helps to make the piece feel like it was immersed in Disney culture, and made it more than what it would be if you were just using one medium. It felt like it belonged in this world of the storybook."

The music, as previously mentioned, was also a huge part of the film. Gipson wanted the music and the artwork to speak to each other, to create a lyrical piece that had a lot of emotion throughout the film. Composer and arranger Joseph Trapanese, who has worked on projects that include Disney XD's animated series Tron: Uprising, Percy Jackson & the Olympians: The Lightning Thief and The Greatest Showman, created the score for "Myth: A Frozen Tale" "It was so great working with Joe, and [I was] so happy to have him on board. He really jumped [in] early and was creating pieces that our animators were animating to," Gipson shared. Gipson wanted each element to have its own score, so he looked at films like "Peter and the Wolf," Fantasia, the pink elephants sequence in Dumbo, and Make Mine Music for inspiration. "I just loved how the animation was married to that music," Gipson beamed.

There were close to 100 artists that worked on "Myth: A Frozen Tale" and it happened to be the team's second film made in real time at the studio. "Myth: A Frozen Tale" was previously released in VR on Oculus Quest, and the team is now thrilled for its streaming debut. "There were so many technical challenges, but also artistic challenges we overcame," Jeff said. This, he felt, was a lot like the film itself. "The film's about harmony, and that's what happens within harmony. All of our artists, our technicians, and our production folks came to create something that's really special. And this is basically that moment in the film — this moment where all the elements are dancing together to create this beautiful harmony." 
You don't want to miss "Myth: A Frozen Tale," now streaming on Disney+.
For more Disney+ news and updates, follow @DisneyPlus on YouTube, Facebook, Twitter, and Instagram.